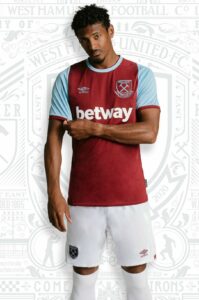 Sebastien Haller looks set to sit out on side lines while he recovers from a hip injury
Suggestions on social media that Haller has not featured as the club plans to sell him this summer while others have suggested Haller's next appearance will trigger another massive payment in the deal with Eintracht Frankfurt or that West Ham has failed to pay the latest instalment have been rejected by the club as fanciful conspiracy theories.
What is true is Haller has rarely suffered from injuries in his whole career so this appears to be down to the good old fashioned West Ham injury curse. 'He's just injured' a bemused club insider told us!
In 2017, Haller missed 10 days after undergoing dental surgery but his only real injury to date was in 2019 when he spent 35 days out missing 8 games through an abdominal strain.
The £45m striker is expected to return to training today but will not be fit by Wednesday to face Chelsea. With only four full days of training excluding days off and match days, Newcastle away next Sunday could also prove to be a challenge with possibility him being on the bench but Moyes is unlikely to risk him.
The medical team are thought to be targeting a full return and potential start in West Ham's home game against Burnley on 8th July at the London Stadium in ten days time.