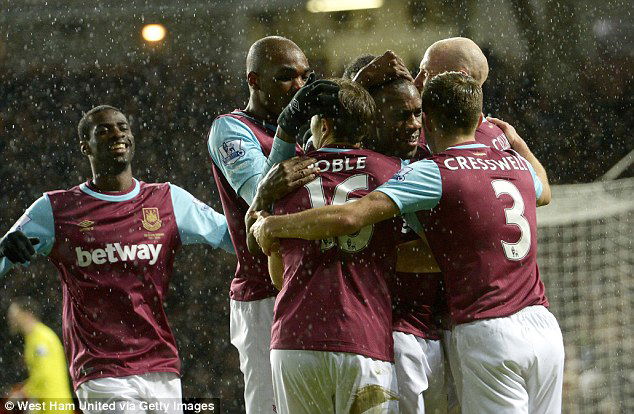 West Ham have submitted a squad of twenty-three to the Premier League which has been published.
The club has taken the unusual approach of naming nine homegrown players, one above what's required in a squad of twenty-five.
The nine homegrown players include Craig Dawson on loan for the season and two Academy players in the form on Nathan Trott and Nathan Holland.
The club also published a list of 43 Academy players/scholars which includes Declan Rice who although 21 doesn't require a full squad place this season.
The Hammers have two remaining squad positions that could be used for free transfers or further additions in January in just ten weeks time.
West Ham United's 25-man squad (*Home grown)
Antonio, Michail Gregory*
Balbuena Gonzalez, Fabian Cornelio
Benrahma, Mohamed Said
Bowen, Jarrod*
Coufal, Vladimir
Cresswell, Aaron William*
Dawson, Craig*
Diop, Issa Laye Lucas Jean
Fabianski, Lukasz
Fornals Malla, Pablo
Fredericks, Ryan*
Haller, Sebastien Romain Teddy
Holland, Nathan Elliot*
Lanzini, Manuel
Martin, David Edward*
Masuaku Kawela, Fuka-Arthur
Noble, Mark James*
Ogbonna, Obinze Angelo
Randolph, Darren*
Snodgrass, Robert
Soucek, Tomas
Trott, Nathan Wallace Newman*
Yarmolenko, Andrii
U21 players (Contract and Scholars)
Adarkwa, Sean Jordan
Adebayo, Iyiola El-Ameen
Adu, Michael Asare
Alese, Ajibola
Anang, Joseph Tetteh
Appiah-Forson, Keenan
Ashby, Harrison
Ashley, Ossama Wassim
Baptiste, Jamal
Caiger, Samuel Alfie
Chesters, Daniel Peter James
Coddington, Remy Taye Stephon
Corbett, Kai Michael James
Costa da Rosa, Bernardo
Coventry, Conor James
Diallo, Amadou
Dju, Mesaque Geremias
Evans, Isaac Paul Ernest
Fevrier, Jayden Raymond
Forbes, Michael
Greenidge, William Winston
Heal, Benjamin Atticus William
Hegyi, Krisztian
Jinadu, Daniel Oluwagbolade
Johnson, Benjamin Anthony
Kemp, Daniel
Kileba, Gael Mulamba
Knightbridge, Jacob Christopher
Lewis, Alfie
Longelo Mbule, Emmanuel
Odubeko, Ademipo Ibrahim
Okotcha, Joshua
Peake, Lennon
Perkins, Sonny Tufail
Potts, Freddie
Rice, Declan
Roach, Joshua Michael Phillip
Robinson, Carl Junior
Sanneh, Serine
Soares Cardoso, Goncalo Bento
Swyer, Kamarai Joshua
Thomas, Brandon Val
Veliky, Christian
Woods, Archie James