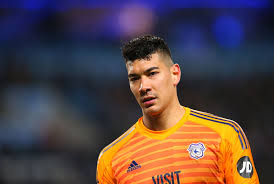 West Ham have seen a £7 million bid for Cardiff City's Neil Etheridge rejected by the Championship club.
The Hammers have been rumoured as being concerned about Darren Randolph current situation for whom Middlesbrough have accepted a £4 million offer.
And this morning the Hammers have admitted they are indeed anxious about the Irishman's injury but have not yet pulled the plug on the deal although it clearly remains in the balance at this stage.
The offer for Etheridge was first reported @ https://www.footballinsider247.com/west-ham-submit-goalkeeper-etheridge-bid/ but a top source inside the club told us this morning that it was turned down.
Etheridge has been the back up keeper choice for some time with the Hammers having rejected any talk of Asmir Begovic but in the meantime that are ready to wait on their former keeper for another week.
Our source told us this morning: "The bid was turned down by Cardiff. We are still waiting on Randolph but his injury is a worry!