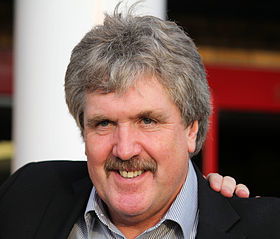 Hammers legend Phil Parkes  isn't sure David Moyes will want to stay at West Ham beyond this season regardless of its outcome.
Relegation is on everybody's mind but Parksey believes two wins will do it for us with Southampton and Stoke there to be taken so long as the fans give it everything they've got.
Parksey  makes no secret of his antagonism over the departure from  Upton Park and for Leyton saying: "The club will always be my club but it doesn't feel like it sometimes these days.
He said: " I understand why a section of fans are up in arms but there can be no more of what we saw last weekend.
"They've made their feelings clear but now it's about getting behind the team again and showing whey West Ham fans are the greatest in the world. Trust me, players can't perform in that atmosphere."
Survival or not, Phil isn't sure Moyes will want to stay around with the atmosphere of friction, unease and near violence doing its thing at the club.
He said: said: "It's really not great is it…will he want to stay at the end of the season? With all that's seemingly going on behind the scenes you have to wonder. I'm not sure I would. It has to be something that's a worry because given the squad he was given he's done really well."
But will we escape the drop? Parkesy reckons that anything other than a win against Saints will be the final nail in the coffin but a win followed by three points against Stoke will see the team safe.
And he added: "There's some tough fixtures alongside them but for wall I have said it would be very West Ham to pick up points against any of the bigger teams.
In fact in some ways I fancy those games for points more than the apparent relegation crunch games because of that."