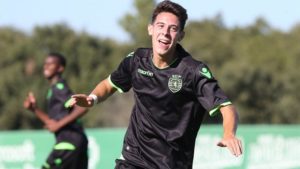 West Ham are favourites to grab Sporting CP youngster Nuno Moreira, according to Portuguese outlet Record.
The Hammers hve faced competition from Leicester City but with the 19 year old's contract running down at the end of the season several Portuguese outlets believe the Hammers are front runners.
And with Brendan Rodgers having only recently been installed as the Foxes boss he is believed to have other targets and priorities in mind.
The Hammers are already well represented in country where they have snapped up exciting young striker Xavi Silva and attacking midfielder  Mesaque Dju.
Hammers scouts are regularly scouting the best young players in the country and life Silva and Dju the 19 year old is one that has been watched for several months.
He is not seen as a player who will immediately hit the first team but with Manuel Pellegrini noted for his recognition of youth the player's representatives know Moreira is likely to get early chances to impress if producing his form
Indeed, it is now appearing certain that the decision has been made and that the youngster is set for a summer arrival after the Hammers and Sporting held talks.
The young midfielder is a regular in Sporting's under-23 side but he is yet to make his first senior appearance for the club.