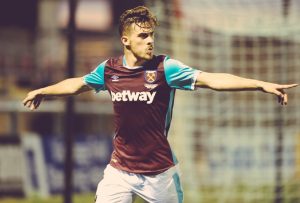 Irons u23s 4 Man Utd u 23s 2
Toni Martinez was on a goal charge as the Hammers completed a great six goal win over Manchester United's under 23s.
And Declan Rice returned with a top performance as skipper after missing out on a squad place for the seniors against Burnley yesterday.
Despite the visitors taking the lead twice, the Hammers showed great resilience and ability to claim all three points with some comfort.
United took the lead inside 80 seconds when Demi Mitchell collected and steered his shot past keeper Nathan Trott.
But it became an end-to-end affair and, in the 24th minute Martinez scored before United regained the lead in the 35th minute when Trott parried a James Wilson's drive and Mitchell followed up to claim his second goal of the afternoon.
But the Hammers levelled through Martinez again with half time approaching. In the third minute of added time, Nathan Holland crossed for Spanish striker Martinez to thump home a fine header.
Fired up by that young Toni completed his hat-trick with another header after getting on the end of a right-wing cross from Edmilson Fernandes.
After 65 minutes it was job done when from another Fernandes cross  Joe Powell took full advantage to extend our lead and put the game out of reach.
Hammers: Trott, Byram, Rice, Park, Neufville, Coventry, Powell, Kemp, Fernandes, Holland, Martinez