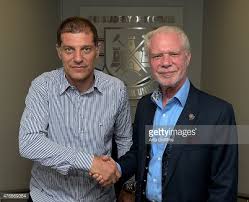 David Gold expects transfer market activity to become "more intense" after boss Slave Bilic arrives at the club next week.
The new manager has been taken a summer break with his family in Croatia but will get down to business at Chadwell Heath on Monday.
An the co chairman said: "We will all be meeting up early in the week and looking at the priority list the manager has put together.
"Things should start moving quite quickly after that. We know which direction we are heading in but this meeting will give things an impetus."
He added: "We have a good track record of working with our managers. We said to Slaven 'get your priority list and let's see what we can do'.
Meanwhile, he explained: "We know we need a right-back and will work tirelessly to bring in Carl (Jenkinson). If that does not work out, we have other irons in the fire.