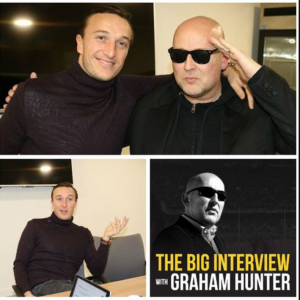 MARK Noble grew up with a football field for a back garden. Or at least he did once his dad had a secret gate installed behind the house, so that Mark could take a ball and sneak on to the grounds of a school.
It was not too long before he was stepping out at the Boleyn Ground. In Part Two of his Big Interview, Nobes talks about that famous old stadium and the final game there, against Manchester United under the lights.
Mark has kept a photograph from that night – a picture of the West Ham fans looking on as he shields the ball to help see out the game.
He remains connected to his support, his community, and Mark talks eloquently about the social housing projects being undertaken by the Legacy Foundation, which he founded alongside two other London boys: Bobby Zamora and Rio Ferdinand.
Listen to part two with Graham Hunter and Mark Noble HERE
Part one can be found  HERE