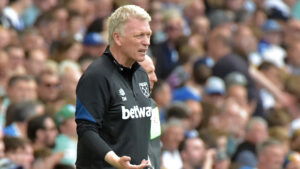 David Moyes has a few words for those who have criticised a situation where effectively  the same team is  being played as last season.
Much has been made of that in some areas but the manager believes that the club and of course himself as boss is facing a huge challenge this season.
He told reporters: " We are in quite a big transition. You might be looking at the team and saying it is the same team as last year, but we are in a period where we are trying to introduce one or two news ones.
We are bringing in new players and you can probably see, if you are being honest, maybe some of the players who have been here are maybe not quite the same as they were even a year ago, a year and a half ago.
So we've got to look at that as well and decide when the changeover time is. We've got a little bit of that going on, but we've got to try and keep it going and keep hanging in while we're maybe not quite ready."