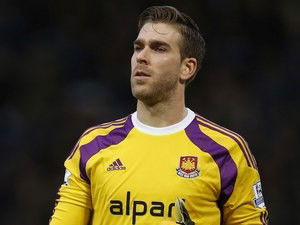 Adrian will remain in the team if he plays well against Manchester City on Sunday afternoon.
The Spanish stopper will regain his place in the team as a result of Joe Hart being ruled out under the terms of the loan agreement with Manchester City.
And manager David Moyes appears ready to allow him to continue should be produce a decent performance declaring: I've spoken with both goalkeepers over the last week. I thought that Joe's performance against Arsenal was really solid, similar to that against Chelsea a couple of weeks previously.
"Yes, he made a mistake against Stoke, but what you do is bounce back and that is exactly what he did at the Emirates, where he made several really good saves.
Now, though, Adrian has his chance — and if he plays well against Manchester City then I will stick with him. It always has to be a case of getting into the team, grabbing that jersey and showing what you can do. We only have three games to go after Sunday and, should he play well, he'll stay in. "