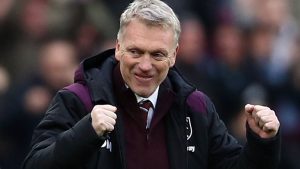 West Ham are considering offering David Moyes a two rather than one year contract in the summer once Premier League security is assured.
It was widely believed that the manager would be handed a 12 month deal, as is becoming common practice, but the board have been extremely impressed with him and his backroom staff.
Now they are keen to ensure that he is kept happy with a deal that will keep the 'team ' in place for a minimum of two years and believe these are the guys who seriously can take us to the next level.
And part of their thinking maybe that after what looks like a well engineered scrap against relegation it will stop other clubs trying to poach him and the backroom team.
David Sullivan and David Gold have been tremendously impressed by the Moyes work ethic which sees him conducting long training sessions with his team whilst personally scouting players.
Moyes has regularly said that he won't discuss his contractual position until the end of the new season but a longer than expected deal may well be on offer.