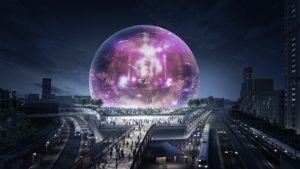 The Madison Square Garden Company has started a consultation into its planned MSG Sphere music venue which it plans to build next to Stratford station.
Public exhibitions are set to take place in early July to allow the public to have their say about various aspects of the proposals. Those unable to attend will be able to view the consultation material from Saturday, July 7 on a dedicated website.
The MSG Sphere, which will be located next to Stratford station, is set to feature the largest and highest resolution LED screen ever created, along with a fully programmable LED exterior that will allow artists and brands to project images to the outside world.
Jayne McGivern, MSG's executive vice president of development and construction, said: "Our vision is for MSG Sphere London to become a thriving destination that not only shapes the future of live music and entertainment for audiences, but also serves as a long-term investment in the city.
"We're looking forward to sharing more information on this exciting project and gathering feedback from members of the public. We'll be paying particular attention to the views and needs of our new neighbours in Newham and the surrounding areas, but welcome thoughts from anyone who is interested in our plans."
Feedback will be taken into consideration before a planning application for the expected 18,000-seater venue is submitted later this year. Information will also be available from July 7 at msglondonconsultation.com
An extra 18,000 people using the transport system on West Ham match days could bring further challenges to Stratford's public transport system.