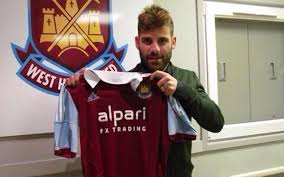 Antonio Nocerino has made it clear his Number One priority is to steer West Ham away from relegation deep waters declaring: I am ready to play and to play immediately."
And he declared that should his Hammers form help him into the Italian squad for Brazil, that will merely be a bonus.
Speaking the West Ham TV he said: "When I was told I was coming to West Ham, I was already aware of the large following that the Club has in Italy.
"When I realised how big the fanbase is and the traditions and very, very important history that the club has, I was more than happy to come to England.
"A lot of the traditions of the Club, I learned from the West Ham fans who are already there in Italy."
"I am really enthusiastic about playing for West Ham. I am aware of the Barclays Premier League and what will bring with me is my enthusiasm.
"I want to show my qualities on the pitch and not just talk about them. I feel I have got the ability and skill to adapt to the English game and I am confident that, once I am ready to play, I will be able to show the fans what I can do.
"I feel my qualities match what is required in the Barclays Premier League."
"My first objective is to play for West Ham and help the Club to move up the table. From that, if I am playing well and I get picked to go to the World Cup in Brazil, that will be an added bonus.
"The main priority is to play for West Ham and to move up the table."