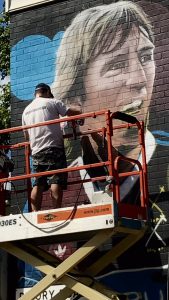 The mystery of a West Ham mural in the process of creation in Priory Road, East Ham has been resolved. The work of art on the side of  Fish and Chip shop in Barking road depicts Billy Bonds and Trevor Brooking.
The creation is the work of Norwich based artist David "Gnasher" Nash who founded Gnashers Murals. The artist has told Claret and Hugh the mural should be completed on Thursday and anyone is welcomed to come down to see the finished piece of street art.
The art was commissioned by Vik Taak who works for Newham Council as a tenant liaison officer and is part of a Newham street art project. We are told the local resident also supports West Ham.
Vik has previously worked with local councillors, community groups local businesses and contractors to sponsor materials and hopes to work with schools to persuade young people they shouldn't just spraying anywhere. Vik previously said of a previous mural in Stratford "I love street art, we want people to come to Newham to see it and spend money while they are here. Shop keepers are happy as long as the art is not offensive"