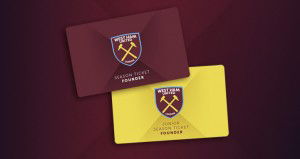 West Ham season ticket holders anxiously watching their letter boxes for their welcome packs with new Olympic Stadium access cards might have to wait a little longer.
Yesterday West Ham Vice Chairman Karren Brady announced on twitter that the new West Ham season ticket access cards had been posted out last week and should be arriving this week.
However Claret and Hugh has learned through our source close to the ticket office that the welcome packs were sent out to a third party mailing house last week and started being posted out second class this week so excited may need to wait until the end of this week or early next week to receive their pack.
Our source clarified  "They are being sent out via a third party mailing house, we are trying to avoid any confusion with them not being used next week for the Europa game or the Juventus friendly. The welcome packs and cards have been printed and sent over but I don't think they will actually begin landing on peoples door mats yet as they only started posting them yesterday. They normally get sent second class especially with the timescales involved and lack of urgency so I would expect them to start landing through peoples letter boxes end of this week onwards and start of next week .  They are expected to be in all season ticket holders hands before the Europa League game on 4th August but again there is no need for these cards to be used until Sunday 21th August."