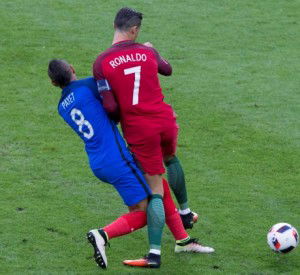 Dimitri Payet has broken his  silence on the controversial Cristiano Ronaldo tackle in the finals of the European Championship in France.
The West Ham midfielder collided with Ronaldo at Stade de France on Sunday, and the Portugal captain had come off injured after just 25 minutes after twice trying to carry on.
A tearful Ronaldo was finally carried off the pitch on a stretcher. Payet was on the receiving end as some fans who blamed him and France at large for plotting to injure Ronaldo in effort to lift the European trophy.
Speaking after the Euro 2016 final which Portgual won 1-0 Payet said:
"No, it was a challenge, that's all, period," Payet told reporters after the match. "I regained the possession and if I hurt him it was not intentional."
"It's not in my nature to be a bad guy on the pitch. There is no question about it."
Reflecting on the loss Payet added: "We're disappointed, we were under the impression we were the ones with the possession and the better chances but we missed that goal that could unblock the situation.
"On the very few chances they got, they were able to score.A goal decided all. A goal that we couldn't score ourselves. The Portuguese side were more efficient. 
"I think that if we could have scored we could have forced them to play more offensively and we could have counter-attacked. At the end that goal is cruel.We didn't score for a lot of reasons.
"We were able to score two goals against Germany while they got the possession. It is kind of the same game but the other way around."