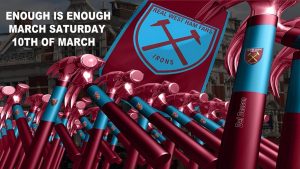 The Real West Ham Fan action group has announced the proposed route of the 10th March march.
The Action group said on their official Twitter account: "We march as one. This the proposed route. So we're going to meet at Stratford park which is next to Stratford police station. We will go right out the park and walk down to the end of the road where you'll see Stratford Center (not Westfield) We will turn left from there and walk down the high street until we get to Warton Road. We will then march down there and turn left on that road which will lead us towards the green behind the players Car park as our final destination and speeches will take place."

"We have a meeting with the police next Tuesday, we're also waiting for permission from local authorities and landowners to see if we can use their land. We march at 11:30 so be there early"
Ahead of the march on 10th March the Real West Ham Fans Action Group have released a 37-minute video on Youtube. Andy Swallow and Micky Morgan take a trip down memory lane to the Boleyn and visit businesses and West ham United fans affected by the move to the London Stadium.