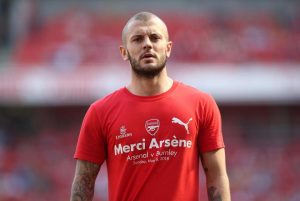 Jack Wilshere is tonight being reported as having had face to face talks with Manuel Pellegrini over a move to West Ham.
The former England midfielder is also being chased by Fenerbache but in a widely reported piece it seems that the player is fancied by the new Hammers management.
The Mirror reports: "The Istanbul club have already made a huge offer, while West Ham are now putting a package together they hope will persuade Wilshere to stay in London and the Premier League.
New boss Pellegrini has outlined his plans and they are expected to come back with a concrete offer. Wilshere is likely to wait on West Ham before making a final decision."
It's not clear where the evidence of the "huge" offer has arisen from although such a turn of phrase is one often favoured by agents when promoting their client's cause.
However, given that Wilshere has already turned down £130k a week from Arsenal – a decision which allowed him to become a free agent -one wonders how to interpret the word in these circumstances.
It seems more likely that a move across London would suit the player better although before any offer were made the player would in all probability need to undergo an exhaustive medical given his injury history.