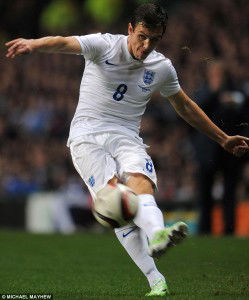 I felt incredibly sorry for Hammer Stewart Downing  as I watched the match against Scotland last night – the poor guy looked like a fish out of water thanks to England manager Roy Hodgson..
Downing was played out of the position which has proved  so fruitful this season for West Ham leaving the question as to why Hodgsen even bothered to start the guy.
To add to his problems Stewart hadn't trained all week so lets cut him a load of slack.
He looked lost at times and not knowing what was expected of him or what his role was supposed to be.
To a neutral he would have appeared as as  outsider as the others England regulars celebrated the first half goal.
I hope this appearance wasn't a token gesture by the manager in a bid to throw him a bone on the back of his amazing Premier League form.
It was no surprise when Downing was replaced at half time by Adam Lallana.
Some newspaper reports have suggested that Downing blew his second chance for England and that his first touch was  inconsistent and he had poor control but I think his subdued performance was more to do with the non existent role he found himself in.

Downing last played for England before last night in May 2012 in an England team that included past and present Hammers of Robert Green, Scott Parker, Andy Carroll and Jermain Defoe. That game against Norway was won 1-0.
Let's hope it doesn't knock his club form for Saturday against Everton away.