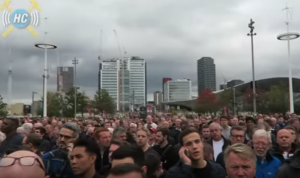 Some Hammers missed kick-off on Saturday after due to lengthy search queues at bridges leading to the London Stadium.
A new security search procedure was introduced at the beginning of the season partly in response to an increased terrorist threat.
All supporters are now checked at each of the five bridges to the Stadium island and while it worked well for the Monday evening Huddersfield game there has been overcrowding at both the Spurs and Swansea games.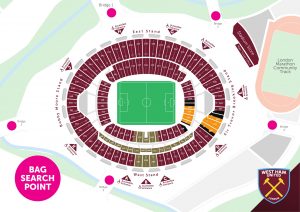 On Saturday it was bridge 1 in front of the large screen with the West Ham United that suffered queues of up to 30 minutes to get searched.
One of those caught up in the queues who missed kickoff was the friend of Claret And Hugh, Gonzo from Hammers Chat who spoke to us about his ordeal. Hammers Chat run canal boats for their members to eat and drink within a few minutes of the stadium to allow fans to drink to the last possible moment.
Gonzo told us: "We left the boats at 2.32pm thinking we had plenty of time to get into the stadium. It took us around half an hour to get to our seats when it usually takes five minutes. We missed kickoff and got to our seats at three minutes past three"
Gonzo videoed his wait in the queue as part of his matchday VLOG which can be found below.
West Ham published an announcement on the 7th September encouraging fans to use the nearest bridge to their turnstile but this appears to have gone unheeded.
https://www.whufc.com/news/articles/2017/september/07-september/new-security-search-process-place-home-matches