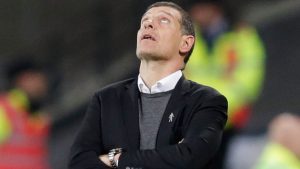 "It was a bad performance," Bilic told sky Sports.
"The goals killed us, the first one very quick. Between the first and second goal we were dominating the game."
"They defended the box really good and at the end of the first half we conceded from a bit of skill from their player. It is very hard for me to say anything clever in this moment apart from it's very disappointing."
"As manager I take full responsibility."

"The board will do what they are going to do.
"It is their decision. We have been in this situation before and we got out. As a manager you take the credit and as a manager you take the full responsibility. I don't want to hide.
"I'm not worried. I'm doing my best."