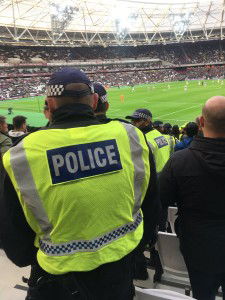 Stadium Operator London Stadium 185 could have their 25-year contract terminated if West Ham is forced to play behind closed doors.
The subsidiary of French company Vinci signed a lucrative contract in January 2015 to operate the stadium until 2040 but strict termination clauses could be activated should it fail to meet certain Key Performance Indicators.
A number of targets have been set in the Stadium Plus operator agreement with severe consequences for failure.
The ultimate 'catastrophic failure'  is defined as 'a material breach failure which results in the site being completely unavailable for the provision of services by the operator as a result of the operator not fullfiling its obligations under the agreement including the loss of any operating licenses and any serious health and safety incident which brings the name of the grantor (E20/LLDC) into disrepute'
The loss of the safety certificate issued by Newham for the London Stadium – threatened after the Burnley fracas – which may have forced West Ham to play behind closed doors could also be classed as a catastrophic failure leading to an immediate termination of the operator contract by the stadium owners.
West Ham could ultimately end up the winners if such an event ever happened with Stadium owners likely to ask the club to take over the operation of the stadium at short notice.
The West Ham board have long argued they have 25 years experience of running football stadia and could make significant financial efficiencies if they operated the stadium themselves.
The stadium operator contract obtained under freedom of information can be read at http://www.queenelizabetholympicpark.co.uk/-/media/lldc/publication-scheme/stadium-plus-operater-agreement.ashx