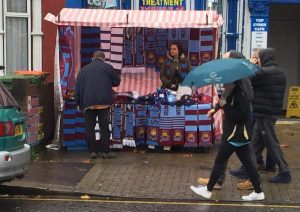 Street traders on the route to the London Stadium could soon be a common sight again on West Ham match days. A request has been made the London Stadium Safety Advisory Group chaired by Newham Council to introduce street traders on certain routes to the stadium.
The minutes of London Stadium SAG were recently made public through the freedom of information act and they show a request was made to license street traders in Carpenters road and Angel way. The Met Police said they had no objections to the request but no permission would granted for Westfield Avenue or Montfinchet Road.
A number of street traders lost out when West Ham moved away from Green Street last season but most of these hired private front gardens to work from.  The new proposed street trader scheme is unknown but is expected to fully licensed by Newham council. Food retailers would be expected to have the relevant food hygiene certificates in place and clothing stalls are unlikely to be able to sell unlicensed goods which use West Ham's brand or logo.