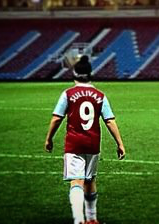 Chairman of the West Ham youth supporters club Jack Sullivan has returned to twitter to tell us that West Ham will sign a £10m+ player within five days.
Sullivan Junior tweeted "Sorry I have been quiet but….we hope to announce a very large 8 figure deal within 5 days. I can't tell you more at the moment."
Could it be 7 goal & 17 assists Dimitri Payet valued between £12m and £14m by Marseille or maybe it is  the 17 goal machine Charlie Austin valued at £15m by QPR.
Who knows? and if 15 year Jack knows he is not telling us. I guess we will have to be patient for another five days then.
Meanwhile the club's ITK is back today and appears to indicate Jack is talking about Payet.
The Boleyn Insider says "A lot of speculation continues to surround the possible arrival of highly rated winger Dimitri Payet from Marseille and that the Club have made a big money move to sign him.I can exclusively reveal that the Club hope to resolve a move for the France international one way or the other this week."