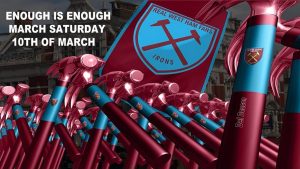 West Ham have released an official statement to confirm they plan to meet with the action group on Monday.
The club published a statement on WHUFC.com to say "West Ham United can today confirm the Club has reached out to the supporter groups represented within the West Ham Groups United to meet to begin constructive dialogue with the Club. 
Vice Chairman Karren Brady has today written to the West Ham Groups United confirming: "My Chairmen David Sullivan and David Gold have always been clear that, as a Board, we are only the Custodians of the Club on behalf of our supporters. We fully understand that our supporters are the lifeblood of the Club.
"We believe the groups that have come together have nothing but the best interests of the Club and its long-term future in mind. We understand they are seeking only constructive dialogue with the Club to engender unity. Their intention is only to bring positive suggestions to us as a Board that will help over time to improve the Club and the supporters' matchday experience. David Sullivan, David Gold and I want to work with the supporters to make West Ham United one of the most successful clubs in the country and we know and understand that this only happens with collaboration and listening to our supporters.
"To this end, I can confirm we have requested a meeting to take place with representatives of the groups at the earliest opportunity.We hope that this will demonstrate how serious we are about listening and answering their issues. Uniting the Club is our primary focus as a Board. 
"I hope the meeting will help us to more fully understand the agenda that we all need to work to together and that following the meeting we can aim for ongoing constructive dialogue to deliver a better experience for our supporters."
The Real West Ham Fans Action Group posted their own statement on Twitter saying:
"We have received this from the club this afternoon asking for a meeting next week. We will attend the meeting as we feel it is our responsibility to get into dialogue with the club we will attend with other groups as part of the West Ham Groups United. Far as we're concerned we're Marching on March 10th, but we feel it's important to meet the Board as at some point we need to sit around the table. This is a strange one, if we don't meet people will say we are destructive to our team. If we meet some will say we have sold out. Let's put it straight we've chosen to meet the club listen to them and hopefully get them to understand why we are Marching. The meet is on Monday, time to be confirmed we will update you and we will let you know what was said at the meeting. thanks for your support."