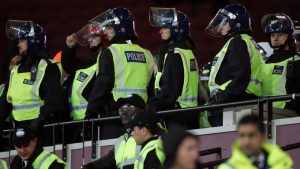 A West Ham fan banned from football matches travelled to Teesside on the day the Hammers played Middlesbrough – saying he hadn't fully read his banning order. The fan was barred for five years from entering any town or borough where the Hammers were playing, for a four hour time period either side of the match.
That order was placed on him on January 13th at Blackfriars Crown Court in London for violent disorder – where he received a one year prison sentence, suspended for 24 months. But just over a week later on January 21st, he travelled up to Middlesbrough to "visit a friend" at the Jury's Inn hotel on Fry Street, in the town centre.
He didn't attend the Riverside to see the West Ham defeat Boro 3-1 – he watched the match in the hotel, he told a court – but admitted to Teesside Magistrates' Court he had breached the order by being on Teesside. An officer from the Met Police, working with counterparts in Cleveland to police the match, recognised the banned supporter in Middlesbrough from a previous away match.
Andrew Foster, defending, said the fan had not been given a copy of his order after the hearing and only contacted the court when a friend of his told him he should have been reporting to a police station as part of the ban. He was then emailed a copy by his solicitor on January 18th and printed it out, but admits he did not read it fully and originally thought the ban only extended to half a mile away from whichever ground West Ham were playing at.
In fact, the distance was two miles – and he was banned altogether from town centres on matchdays.
Encouraging magistrates to sentence the fan on the day of the hearing, Mr Foster said: "He has not travelled to Middlesbrough to attend the game. He's come alone, not with a gang, and not with football hooligans. He had printed out a hard copy of the order and put it in his bag, but admits he hadn't read it fully."
But prosecutor Rachel Dodsworth asked the bench to send the case to Blackfriars Crown Court, where the fan could face a more serious sentence. Magistrates agreed and committed the Hammers fan to crown court for sentence at a date to be confirmed.