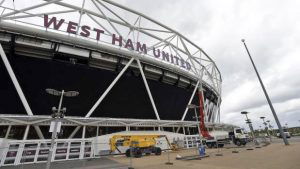 The process to take down the large 47m long illuminated West Ham United sign made up of 3 metre letters has begun today at the London Stadium in preparation for the Athletics world championships in August.
WHUFC.coom confirmed today:
"For the duration of the IAAF events this summer, London Stadium will become a 'clean stadium' – a requirement of any venue hosting the IAAF World Championships under the rules of the competition. This is a unique and exceptional year that will see a once-in-a-generation occasion taking place in London.  It is the one and only time that a clean stadium is required and contracted for an event outside the football season, and has been embraced by West Ham United ever since signing the concession agreement in 2013, as part of the stadium's athletics legacy.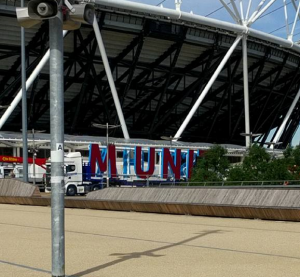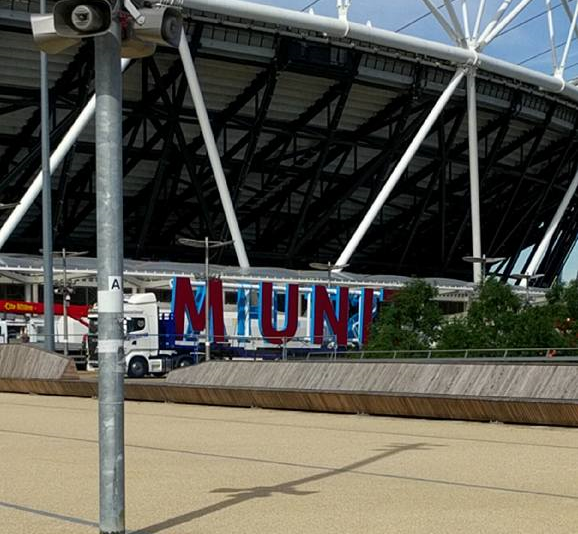 A team of specialists have today begun the task of carefully removing the Club's giant marquee sign that adorns the roof of London Stadium. The sign will be stored and guarded 24/7 at a secure compound off-site for the duration of the IAAF event, before being thoroughly cleaned, serviced and then reinstalled in its prominent location in time for our first home match of the 2017/18 Premier League campaign. West Ham United signage and branding around the stadium will also be placed in secure storage for the summer period, as London prepares to welcome the world's elite athletes to the capital." 
In January this year a freedom of information response revealed that they hoped the costly removal of the sign might not be required saying: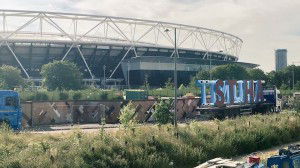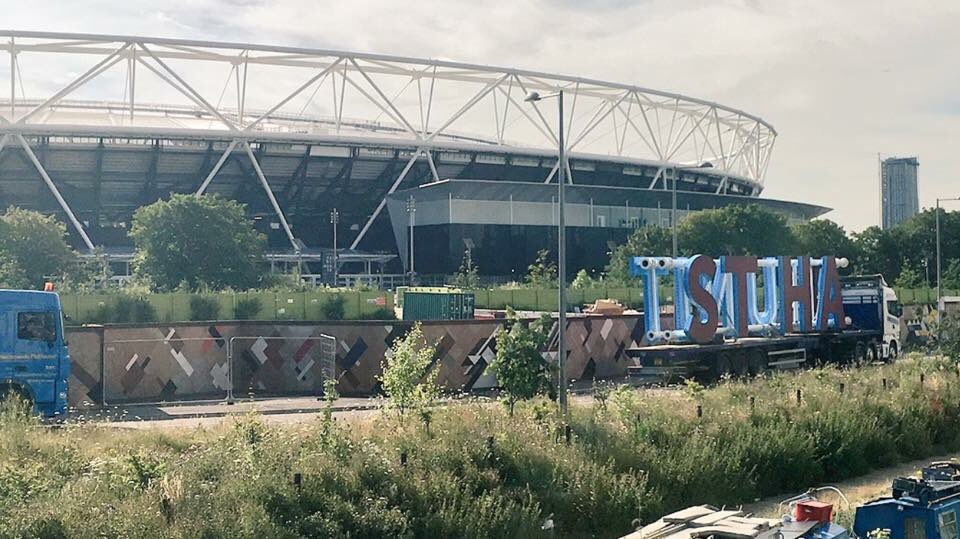 "The requirement to remove or conceal the sign has yet to be agreed with London 2017, the organisers of the IPC Para Athletics World Championships and IAAF World Athletics Championships, and it is entirely possible that the sign will remain, as is, during both championships. It should also be noted that this is just one method of removing West Ham branding from the stadium should a non West Ham event require it, and that concealment is an alternative solution that is being explored.'
The London Legacy Development Agency said at the time if they were forced to remove the sign it would involve the following activities:
Manufacture of Transportation "A" Frames
Hire costs for a Large Flatbed Low Loader Lorry with mounted crane
Hire costs for 2-off 135 Genie Boom MEWPs
Hire of Heras Fencing for creating safe working zones around MEWPS
 2-off Teams of Installation Engineers (2 x 2 man crews)
Delivery of West Ham Sign to nearby storage location
They refused to reveal the cost to the taxpayer saying the estimated figure is being withheld under commercial interests exemption.