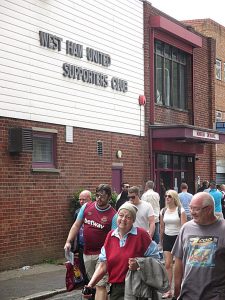 West Ham United Supporters' Club could be forced to close after 70 years of existence after an Emergency Annual Meeting (EGM) voted to hold a vote to dissolve the club by 17 votes to 10.
Last Tuesday the five-strong committee of the social club voted 5-0 not to dissolve the club and 4-0 with one abstention not to re-open castle street at this time.
However, at the EGM last Sunday in the Church Hall close to the old Boleyn Ground 27 members including the committee held a fresh vote whether to dissolve the club. Seventeen were in favor of dissolution including the current chairman and secretary of the committee it has been reported.
The reason for dissolution is club rule 32 which says that if the club is dissolved the financial assets are split between those who have been members for 8 years or over. There are thought to be between 40-50 in this category each of which would receive around £6,500 each.  The club owns two flats as well as a long lease on the building in Castle-street. Money appears to be the main motivation here from the long-term members.
A special Annual General Meeting will be held in March to give all members a final say on dissolution but some of the 720 current members are already calling foul with many they were never notified about last Sunday's EGM and no idea about the vote which they claim was undemocratic.
Last November West Ham stepped in to help the social club rent new premises in Stour Space close to the London Stadium.  The agreement saw West Ham board of directors pay all hire costs at Stour Space for every home fixture for the remainder of the 2017/18 season.
As a paid-up member of the social club myself I can confirm I never received an email notifying me of an EGM on Sunday and in response, I have emailed the club chairman and secretary to complain and call Sunday's vote unconstitutional. If you are a member of West Ham United Supporters' club and didn't know about the EGM you can complain by emailing them at whufcsc@gmail.com