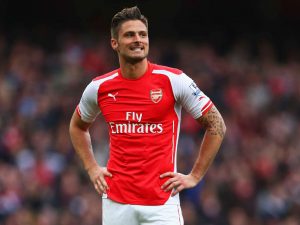 Everton remain very much in the frame  to rival the Hammers – for the signature of Arsenal striker Olivier Giroud.
The Hammers continue to cast their net far and wide for new front men  but are ready to go in hard for the Frenchman the minute Arsenal finally land a new striker – believed widely to be Alexandre Lacazette.
Confusing the position is the situation surrounding Alexis Sanchez who is a target for Manchester City and although the Gunners manager Arsene Wenger insists he's going nowhere there remains a long way to go in the summer window and City could continue to pour the pressure on.
It could mean that were he to be prised away the north Londoners would be reluctant to leave themselves short up front by selling Giroud despite him being an entirely different type of striker.
However, the likelihood remains that Giroud will move on and the Hammers have felt for some time that they are out in front in the race.
They have been encouraged by talks with agents and believe the London factor is working strongly in their favour despite Everton being on a spending spree.